This trip has been in the planning stages for well more than 3 years as I write this in December of 2021. With each postponement I have added to it in both time and scope, from 2 months, to 6 months, to its current form at just over 8 months in length. At this point I think I am as close to a final itinerary as I ever will be. This page will be a quick and easy permanent link for those who are interested in following along with where I am, where I was, and where I will be.
The itinerary is implemented as a Google sheet, in which I have created fields listing the day, date, overnight location, point-to-point distance, and the accumulated point-to-point distance which gives a rough estimate of how far I will be driving. I have also added other fields such as the actual distance travelled and others which will only get filled as the trip starts, and so I have not included them in the screenshots I have posted here.
As the trip is 254 days long, the itinerary has been split into 8 different images. I will post each image then add a bit of commentary on that portion of the trip underneath.
---
So leg one has me travelling the long way from Edmonton AB to Vancouver BC. I have decided to start the trip in Edmonton as it affords me the opportunity to head out there a few weeks early and visit with some friends whom I have not seen in a while. Some of you already know this, but I lived in Edmonton for 25+ years and I still have a fairly large network there.
After leaving Edmonton I swing northwest up to the Peace district of Alberta and British Columbia. This is country I know well from work, so it will be nice to stop and be a bit of a tourist. The two nights scheduled in Tumbler Ridge are so I can visit the 60 meter tall Kinuseo Falls in Monkman Provincial Park. I'm not sure what to expect at this time of year, as it will still be high winter, but I have both snowshoes and ice cleats and a willingness to spend time outdoors in the sub zero temps.
From there I will start making my way west to the north coast. I am especially excited to visit New Aiyansh and Gingolx. These are two small settlements in the Nisga'a Lands, home of the Nisga'a Nation. This is an area I have visited before, but only for the briefest of afternoons. Even in a visit of just a few hours I came away finding it to be some of the most spiritually spectacular landscape I have ever experienced.
After a few nights in Prince Rupert I will double back to Prince George, head south to Williams Lake, then start heading west once again to the central coast. This is exciting as I have not been farther than Riske Creek on highway 20, and it is one of the very few remaining highways in BC I have not yet travelled. My understanding is that the scenery through the Chilcotin Plateau, through the Coast Mountains and Tweedsmuir Provincial Park, and finally on down into Bella Coola is some of the most spectacular in the Province.
One more backtrack east and then I start making my way down to the south coast via the rugged highway 99 corridor with 2 side-trips to Gold Bridge and Skatin.
---
Leg two starts with three days earmarked for birding in the Lower Mainland, centered around Boundary Bay and the Salish Sea shoreline in Delta and Richmond. I have listed my overnight location as Tsawwassen, but I have not yet finalized accomodations and it may end up being in Richmond or another part of Delta.
From Vancouver I head out on a four day exploration of the Sunshine Coast (another part of BC I have not yet seen), then across to Vancouver Island where I will spend the next 2 weeks and a bit. I have friends scattered on the Island from Campbell River to Victoria, so it will be nice to visit them. Other highlights are three days in Ucluelet/Tofino (where I will see about taking part in my first pelagic birding trip!), and driving the back road from Lake Cowichan to Port Renfrew.
After three nights in the capital, I will head back to the mainland and up to the Okanagan again, which will give me a chance to visit my storage unit to drop off any winter gear I am travelling with. From there, it's off to the West Kootenays.
---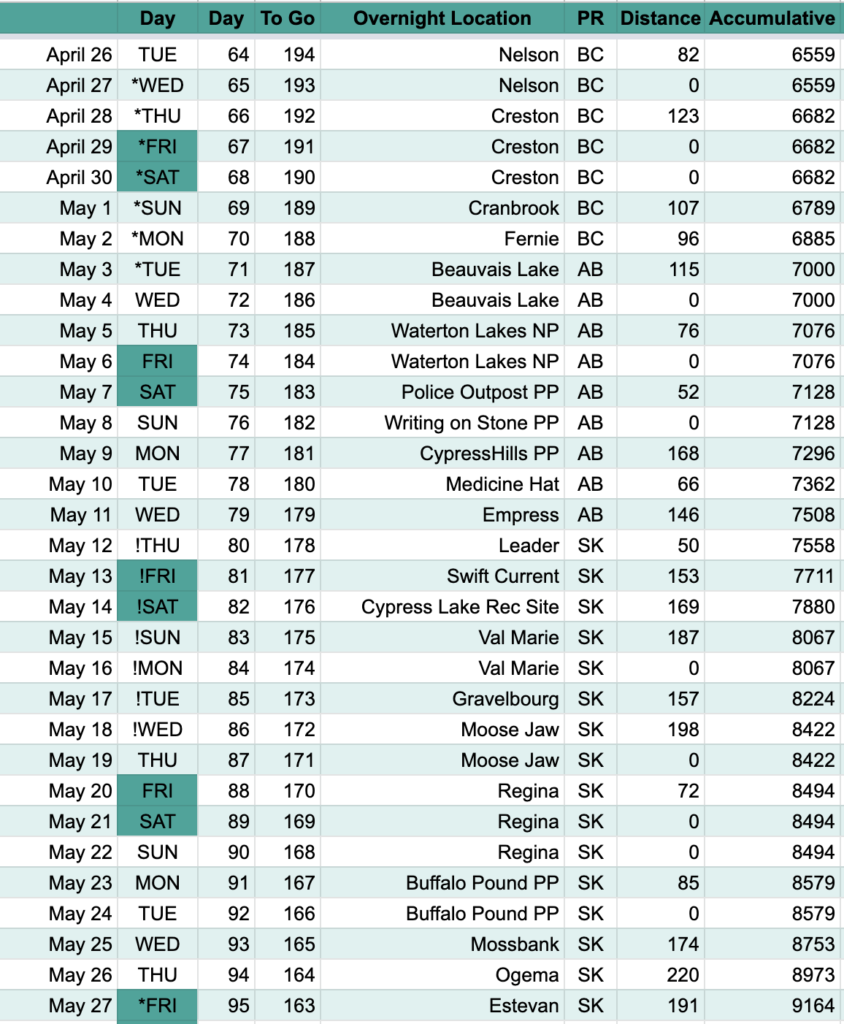 Leg three starts with three days in the East Kootenays, then on into Alberta for a jaunt in the southern foothills. Excited to see Waterton National Park, one of the only National Parks in BC or AB I have not been to. Sticking to the southern part of the province, I head east and into Saskatchewan. The two nights in Val Marie SK will be homebase for time exploring Grasslands National Park, a dark sky preserve, as well as home to a sensitive ecosystem which supports short-grass specialist flora and fauna.
I'll be kicking around southern Saskatchewan for the rest of the leg, including three days earmarked for Regina. I have been to Regina several times, but have never had time to stop and explore. After a short jaunt through prime prairie birding habitat I will head a bit north and cross over in to Manitoba at Asessippi Provincial Park.
---
Leg four begins with three days of camping and hiking in Riding Mountain National Park before I dip south to follow the grasslands birding trail in southwest Manitoba. From there I cut roughly north east just skirting Winnipeg to spend a few more days camping in the Canadian Shield at Hecla-Grindstone Provincial Park.
From there it is straight south to Winnipeg where I will spend three full days. I have spent a bit of time in Winnipeg, and found the large number of fairly well preserved historic buildings quite awesome. Will be happy to walk and shoot the Exchange/Forks/Downtown area extensively. Also excited to walk some of the older inner-city neighbourhoods and do some birding at Assiniboine Park and Fort Whyte Alive.
After leaving Winnipeg it is off to spend time in the rugged and lake-filled eastern part of Manitoba. This area promises fantastic hiking, camping, and birding. I also have a dear old friend who lives in Lac du Bonnet, who I am very excited to visit.
At this point I will be spending a good couple of weeks exploring the Canadian Shield. Over into Ontario, a few nights at Quetico Provincial Park, a few days in Thunder Bay, and then three days traveling along the shores of Lake Superior down to Sault Ste Marie for Canada Day!
---
The first day of leg 5 literally marks the halfway point of my trip temporally. It also marks the beginning of high summer, and 23 days circumnavigating southern Ontario along the shores of three great lakes. Highlights for me include three nights camping in Bruce Peninsula National Park, taking skyline shots of Detroit from Windsor, birding Point Pelee National Park, slow-driving the Niagara Parkway, and three days spent exploring the center of the universe: Toronto!
Then a few days in the Thousand Islands region before crossing over into Quebec and spending three nights in Montreal, where I also have a dear old friend to visit. I have been to both Toronto and Montreal before, and as it stands I found Montreal to be the warmer, more inviting place, but I will keep an open mind and no doubt enjoy spending time exploring both of Canada's largest cities.
After Montreal it is a short jaunt through Sherbrooke and Quebec's Eastern Townships, then one night on the St Lawrence before dipping south into New Brunswick.
---
Leg six is possibly the part of the trip I am most excited about, because it includes many places I have never been to before. I have been as far as Saint John NB, but it was only a brief visit, and it was a very long time ago. After a few days in Fredericton I am off for a vacation from the vacation on Grand Manan Island. May well go on another pelagic birding trip here, we'll have to see. After that I will be traveling along the Bay of Fundy coast before veering into Nova Scotia. This will be my first visit to the province.
I will be pretty much following the coast and circumnavigating the entirety of the province. First down towards the Annapolis Valley, then up and around the Atlantic coast to Halifax where I will spend three days. After three days checking out Cape Breton Island I will follow the coast of the Northumberland Strait pretty closely until reaching the Confederation Bridge and crossing over to Prince Edward Island. I have three days listed for Charlottetown, as I was thinking I would just base myself there, but I may move one of those nights to Summerside. Just not sure yet.
After returning to the mainland I will follow the coast of the Gulf of St Lawrence, eventually crossing back over into Quebec. After a day trip to Île Bonaventure to see the Gannet colonies I will camp 2 nights at Forillon National Park before making my way around the Gaspé Peninsula.
---
Leg seven will have the most driving as I travel over 5000 km from Quebec to Saskatchewan. Most of that swift driving will be through the relatively featureless expanse of northern Ontario.
But first, a ferry ride across 'Le Fleuve' to explore the Saguenay region for a few days. Then two days in Quebec City. Very excited for this. I have been there before, but we just drove straight through and did not stop to see anything. Then I travel on the north side of the river, once again through Montreal, before a three day stint in Ottawa. I have been there, but again, did not do much exploring.
After Ottawa I head straight north through a bit of the northern industrial part of Quebec, then begins the long drive on Ontario highway 11 back to Thunder Bay, and 17 back to Kenora and the Manitoba border. From there I veer off to do some birding in the extreme south east of Manitoba, then cut back north, skirt Winnipeg once again, and start heading roughly northwest to Duck Mountain Provincial Park.
From there it's north to The Pas and Flin Flon, then arc back across into Saskatchewan for some fine autumn boreal camping at Prince Albert National Park.
---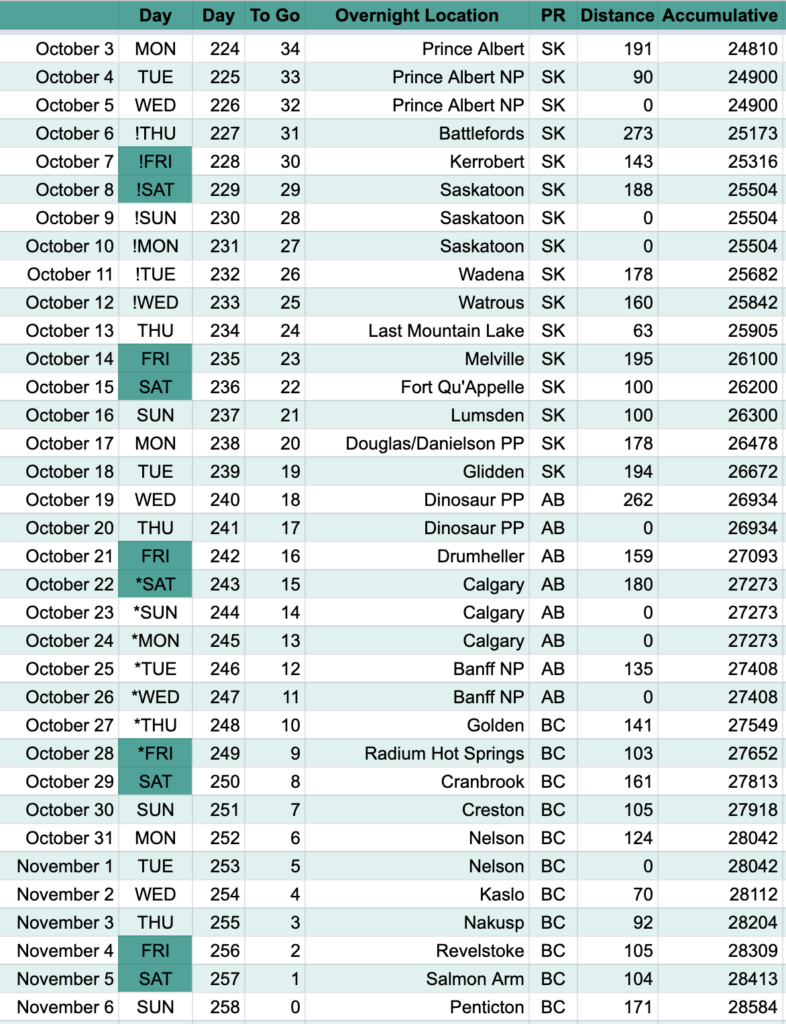 The final leg starts with me booting around central Saskatchewan for a few weeks in time for fall migration. This includes three days in Saskatoon. I am going to focus a great deal in this time on trying to see an endangered Whooping Crane, of which there are only about 500 or so.
From there I will cut back across into Alberta, and spend three nights checking out Calgary. For all the thousands of times I've been to Calgary, I've not stopped to explore very much, so I am looking forward to that. After Cowtown I make for the mountains, and spend four days exploring and hiking based at Kananaskis and Banff.
Then back into BC for the home stretch: another jaunt through the Kootenays and Columbia regions, before finally arriving back in Penticton, wherein I will have to decide what to do with the rest of my life 😀
---
But What About Newfoundland and Labrador?
Yes. Newfoundland is conspicuously missing. I got a sound thrashing from folks last time I posted the itinerary before the last postponement, so I thought I would add a paragraph or two here to justify my exclusion.
First of all, the point of this trip is to slow down and enjoy the scenery. I've spent my entire working life driving quickly by interesting looking places. I don't want to rush myself. And sadly, Newfoundland is BIG, and it is FAR. I really tried to fit it in. I honestly did, but in order to do it any justice I had to cut significant time from other locations. Plus, the ferry ride is very long, and quite costly. Many parts of my itinerary are timed to put myself in particular locations for specific circumstances such as bird migrations. Unfortunately, adding Newfoundland just throws a spanner in the works.
I can assure you, I very much want to visit Newfoundland, but I want to do it right. I expect the thing to do is fly in from the west coast, spend a week in St Johns, then rent a vehicle and spend another week exploring the rest of the island. And Labrador? Who knows, someday hopefully…
So there it is. I hope Newfoundlanders will not take this as a slight, it's just not in the cards this trip.
---